Jurassic World: Dominion Dominates Fandom Wikis - The Loop
Play Sound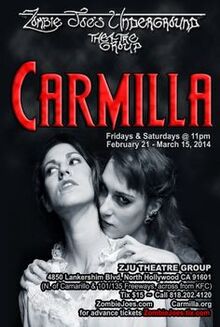 Carmilla: A Play in One Act is a theatrical adaptation by David MacDowell Blue, first produced and published in 2014.
The initial production was at Zombie Joe's Underground Theatre group in February and March, 2014. This was in North Hollywood, California, USA.
Blue's adaptation moved the story forward to the year 1945, in which Laura tells a British legal officer in flashback her reasons for wishing to immigrate to her father's home of the UK. This flashback takes place in her apartment, showing the events of the novella as taking place in 1938 immediately after the Anschluss. The plot follows the original very closely, but with the added feature of radio broadcasts announcing new laws and governmental policies as well as music to which Laura and Carmilla dance. Mademoiselle de la Fontaine is cut. Spielsdorf is re-imagined as a Colonel, now in the SS, with strong hints that his niece Berthe was abused by him, and most likely committed suicide (possibly with Carmilla's help). The play ends with Laura receiving permission to leave Austria, just as we meet her female roommate named Vordenberg. The two are clearly in some kind of relationship and there is a very strong hint Laura is now a vampire.
In the next three years Blue updated the text twice, making strategic edits and adding some elements. The play requires one set and a cast of nine, 5 women and 4 ment (with two possible double castings). It plays around 80 minutes.
There have been five more productions of this play in the following four years.