Dr. Jekyll and Mr. Hyde is a 1931 film adaptation of the novella The Strange Case of Dr. Jekyll and Mr. Hyde(1886) by Robert Louis Stevenson.  Frederic March stars in this film directed by Rouben Mamoulian and the screenplay, based off of Stevenson's original work, was written by Samuel Hoffenstein and Percy Heath. Fredric March famously won the 1932 Academy Award for Best Actor in a Leading Role tying with Wallace Beery for The Champ(1931)[1]. This version of Stevenson's original work stands as one of it's most critically acclaimed adaptations.
Summary
[
]
Frederic March leads as Dr. Henry "Harry" Jekyll and Mr. Hyde, the film focuses on Jekyll/Hyde's interaction with two particular female characters, Ivy and Muriel played by Miriam Hopkins and Rose Hobart respectively.
Harry Jekyll is a charitable medical doctor, scientist and academician in the Victorian era in London, England. The film opens with an interaction between Poole, Dr. Jekyll's butler played by Edgar Norton, a character derived from the novella and Dr. Jekyll, showing the audience a more personable Jekyll than other adaptations. Jekyll then is seen delivering a lecture where he discerns his ideas of man not being solely one but two. His character quoting the novella states these two parts to man divided as one being good and the other, evil. Harry's contemporaries and peers leave the lecture skeptical however Dr. Jekyll proceeds with his experiments and creates a concoction that will bring the evil side of his self to full boil. 
Amongst this Hyde and potion storyline which remains the crux, lies relationship and female roles not familiarized in other adaptations or the original work by Robert Louis Stevenson.
Henry Jekyll himself is torn between the innocent Muriel, whose hand in marriage Jekyll asks of Muriel's father "the General," and Ivy a singer/entertainer of the night that he becomes acquainted with after helping her after she is attacked by a man on the streets of London.
Muriel's father demands Jekyll wait "8 months" before marrying his daughter, as he had to wait five years to be married himself and the date in 8 months is Muriel's mother and his anniversary. Shortly after angrily departing from asking Muriel's father for her hand in marriage, Jekyll walks with his friend, fellow doctor Lanyon, who is also a character derived from the original text. On this walk is where Jekyll comes to Ivy's aid and an extremely sexually tense scene follows with Ivy sneaking a kiss on the unsuspecting Harry Jekyll who does not fight the kiss nor does he show shame while Lanyon scolds him for the kiss. Jekyll once again uses his argument of the separation of good and evil in men.
Dr. Jekyll receives notice that Muriel and her family will be out of the city for a month, here he decides again to experiment with his new potion. That night Mr. Hyde attends the  bar where Ivy works, he is instantly captivated by the beautiful blonde singing a song. He demands his waiter to fetch Ivy and proceeds to terrify her with his looks and manages to start a fight with another patron. These first two encounters of meeting Ivy show the differences between Jekyll and Hyde.
While Dr. Jekyll acts appropriately and shows constraint towards Ivy, Hyde is the opposite towards Ivy. He berates her and intimidates her into submission. The audience is shown interactions between Hyde and Ivy which show an unprecedented controlling and possessive nature of the character.
This narrative focuses on both Dr. Jekyll and Mr. Hyde's interactions with these two women whereas the novella only briefly mentions female characters. The repression of Dr. Jekyll the gentlemen and Hyde as the sexual deviant is rampant throughout the film.
Major Themes
[
]
Sexuality


[

]
Dr. Jekyll and Mr. Hyde explicitly explores sexuality and repression in ways that most films of the era merely hinted at or disguised in allegory. Using the characters of Dr. Jekyll and Mr. Hyde to graphically express these themes, Mamoulian creates a very frightening and complex film for its day.[2]
The introduction of the character Ivy and a more noticeable attention to women from Mr. Hyde shows the focus on sexuality. This film was released in 1931and the sexual tensions were not popular to the big screen yet.
Mr.Hyde slowly develops throughout the film. His interactions with Ivy grow longer and Jekyll is noted to be gone for several days at times. Hyde forcefully commands Ivy around consistently asserting power and control. Miriam Hopkins is notable for this role for scenes such as when she is forced to sing "Champagne Ivy" by Mr. Hyde.
Repression
[
]
Dr. Jekyll portrayed by March carries himself with stoicism and grace, and does an equally amazing yet horrifying transformation into a Mr.Hyde, a hideous, simian-like character who thrusts himself against the world. The first transformation scene Hyde rejoices "Free! Free at last!" Mr. Hyde is charitable and upstanding citizen Dr. Harry Jekyll's release, the doctor attempts these experiments in the hope of separating the good from the evil. This attempt is seen in his normal social behavior, March portraying Jekyll's mental breakdown while battling the constant repression and eventual takeover of Mr. Hyde is a darker observation on repression at this time in film.
Duality of Man
[
]
Amongst other themes, the most obvious and one that remains the crux of the story is the duality of man. Jekyll quotes the novella in his lecture towards the beginning of the movie stating "That man is not truly one, but truly two." Combined with March's performance Mamoulian uses several different film styles to add to the theme. For example, When Jekyll stays late to tend to a charity patient in the free ward of the hospital, the first of several usages of the split screen occurs, setting off the contrast between his world and that of his high society fiance, Muriel (Rose Hobart), preparing to play hostess to an evening of dinner and dancing. [3]
The female characters Ivy and Muriel are both used to show the class separation between Dr. Jekyll and Mr. Hyde as well as the separation of morals. While Jekyll angrily waits for his bride's hand in marriage, Hyde indulges and "takes" Ivy as a possession showing his brutish and violent nature.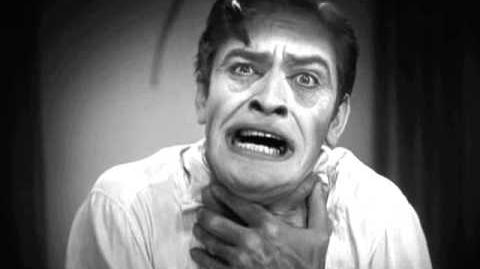 Significance of the Film
[
]
The film's use of camera techniques, outstanding performances, and the use of women are the real separators between the 1931 film and earlier adaptations.
The film was distributed by Paramount Pictures in 1932, in the height of a new era of "Monster Movies." It was preceded by now infamous film adaptations of Mary Shelley's Frankenstein and Bram Stoker's Dracula both created in the same year and was preceded by a silent John Barrymore adaptation (Dr. Jekyll and My. Hyde 1920.) Rouben Mamoulian created the film using a mixture of unbridled violence and sexuality not seen in film at the time, and a new technique of filming which awed audiences during the Jekyll and Hyde transformation scenes. In his autobiography, he lamented that the makeup made March look like "a monkey" and he felt that the scene should have focused on the psychological, not physical, change of the mad doctor. [4]
This focus on the psychological is present, yet to Mamoulian's displeasure the film would become famous for the impressive cinematography during the physical transformation of the lead character.  

Dr. Jekyll and My. Hyde(1931) helped turn the character Jekyll/Hyde into a household name. While Richard Mansfield dominated the stage performance, Fredric March's portrayal on the big screen reached a far greater audience. Combined with March and the rest of the equally outstanding cast, the film uses clever camera work, makeup, and a narrative close to the Stevenson's work, to position itself amongst the more mature and cerebral adaptations of the work.