Jurassic World: Dominion Dominates Fandom Wikis - The Loop
Play Sound
Northanger Abbey is a novel published in 1817 by Jane Austen.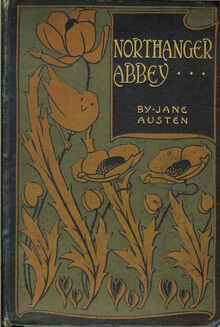 Synopsis
[
]
Catherine Morland, a young girl of seventeen, spends most of her days buried deep in various Gothic novels. Given the chance to accompany her family friends, the Allens, to the spa city of Bath, Catherine acquiesces, launching herself into a whirlwind of balls, romance, and gothic abbeys. Her overactive imagination, formed by the supernatural and horror elements of her favorite novels, often leads her to misguided judgments concerning her surroundings and the people around her.
Themes and Motifs
[
]
Parody of Gothic themes and elements
The power of overactive imagination
Ostentatious displays of wealth
Friendship and Trust
Lies and Deceit
Importance of Social Standing
Adaptations 
[
]
Film
[
]
Theatre
[
]
Northanger Abbey: a Play in Three Acts (1949, England: Theatre Royale), Dramatist: Thea Holme
Northanger Abbey: a Comedy in Three Acts (1950, Scotland: Dundee Repertory Theatre), Dramatist: Constance Cox
Jane Austen's Northanger Abbey (1996, London: Greenwhich Theatre), Dramatist: Matthew Francis
Northanger Abbey (1997, London: Queen's Theatre), Dramatist: Kate Wood
Northanger Abbey: a Romantic Gothic Comedy (2000, USA: Distilled Spirits Theatre), Dramatist: Lynn Marie Macy
Northanger (2002, England: Jackson's Lane Theatre), Dramatist: Michael Caines
Northanger Abbey (2013, USA: Greenhouse Theatre Center), Dramatist: Tim Luscombe
Northanger Abbey Puppet Show (2014, England: Broad Stage's Edye Theatre), Dramatists: Box Tale Soup
Television
[
]
Northanger Abbey 1986 (UK - British Broadcasting Company), Screenplay: Maggie Wadey; Director: Giles Foster
Wishbone, "Pup Fiction" (1998, USA: Season 2, Episode 9), Series Creator: Rick Duffield; Writer: Liz Peters; Director: Ken Harrison
Published Dramatizations
[
]
"Literary Tastes," Duologues and Scenes from Novels (1895, England) Author: Rosina Filippi
"Life at Bath," Dramatic Scenes from English Literature (1903, England) Author: Fanny Johnson
Form Room Plays - Senior Book (1921, England) Author: Evelyn Smith
Novel
[
]
Northanger Abbey and Angels and Dragons (2010, USA)  Author: Vera Nazarian
Graphic Novels
[
]
"Northanger Abbey," Gothic Classics: Graphic Classics Volume 14 (2007, USA), Writer: Trina Robbins; Illustrator: Anne Timmons
Northanger Abbey 2011 (USA), Writer: Nancy Butler; Illustrator: Janet Lee
Sequels and Parodies
[
]
Murder Most Austen: a Mystery (2012, USA) Author: Tracy Kiely
Appropriations 
[
]
Film
[
]
Ruby in Paradise (1993, USA – October Films), Screenplay: Victor Nunez; Director: Victor Nunez
The Jane Austen Book Club (2007, USA – Sony Pictures Classics) Screenplay: Robin Swicord; Director: Robin Swicord
Novels
[
]
Midnight in Austenland (2012, USA) Author: Shannon Hale
The Jane Austen Diaries: Northanger Alibi (2012, USA) Author: Jenni James
Cameos and Other Appearances in Popular Culture
[
]
Television
[
]
"Horrid Novels"
[
]
Northanger Abbey includes numerous references to Gothic and popular literature of the late 18th century, including Isabella Thorpe's list of seven horrid novels that Catherine must read. These include:
Castle of Wolfenbach (1793, UK), Author: Eliza Parsons
The Mysteries of Udolpho (1794, UK), Author: Ann Radcliffe
The Necromancer; or, the Tale of the Black Forest (1794, UK), Author: Carl Friedrich Kahlert 
Horrid Mysteries (1796, UK), Translated from German by: Peter Will; Author: Carl Friedrich August Grosse
Clermont (1798, UK), Author: Regina Maria Roche
The Midnight Bell (1798, UK), Author: Francis Lathom
The Orphan of the Rhine (1798, UK), Author: Eleanor Sleath
Resources
[
]