Jurassic World: Dominion Dominates Fandom Wikis - The Loop
Play Sound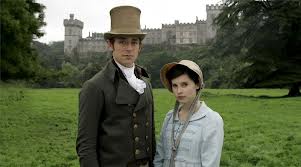 Northanger Abbey is a 2007 British film adaptation of Jane Austen's novel, Northanger Abbey. The film was produced by Keith Thompson, British production company Granada Productions, and production company WGBH Boston. It was directed by Jon Jones and written by Andrew Davies. Northanger Abbey premiered on March 25, 2007 in the United Kingdom and on December 16, 2007 in Canada. It finally made its way here to the United States in 2008 and was distributed by PBS and Masterpiece Theater. It starred Felicity Jones, J. J. Feild, and Carey Mulligan. The film was a huge success and was viewed by 5.6 million people in the United Kingdom alone. Northanger Abbey had positive reviews for the majority from most all critics. They praised the cast and their performances in the film. The show's producers and writing team retained the main plot line and major characters from the original narrative, but also added some more parody to the already parody writing style of Jane Austen. The film is more of a parody for gothic novels, as it is full of huge mansions, gothic dream sequences, satire, and dark secrets. They did a really good job of taking Austen's lead and compared the gothic elements with real life and realistic situations when they made this film.
Summary
[
]
Catherine Morland is a seventeen year old tomboy with a vivid imagination and interest for Gothic novels. One day Mr. and Mrs. Allen, friends of the family, invite Catherine to travel with them to Bath for the season. Upon arriving in bath Catherine befriends one Isabella Thorpe, and gets herself wrapped up in a love triangle with John Thorpe, Isabella's brother and Catherine's brother James' friend, and Mr. Henry Tilney. Catherine shows more interest in Mr. Tilney as the story progresses; which causes John Thorpe to get jealous and lie to Henry's father, General Tilney saying that Catherine is the Allen's' heir, and will inherit a large fortune. The general then invites Catherine to spend the day with the family. Catherine returns to find that Isabella is engaged to James and that he and John will be leaving Bath for a few weeks. Before leaving John talks about marriage with Catherine and then leaves with the idea that Catherine is in love with him. While James and John take leave from Bath another interesting character arrives there, Captain Frederick Tilney, Henry's older brother. Isabella catches his eye and after finding out that James' income will be lower than expected, she decides Captain Tilney will be a better suited match for her. General Tilney invites Catherine to stay with his family at their home, Northanger Abbey and she gladly accepts. Upon arriving at Northanger Abbey Catherine says it looks exactly how she imagined it would. Due to her over active imagination and her passion for Gothic literature, Catherine becomes obsessed with the death of Mrs. Tilney, and draws the conclusion that General Tilney has murdered his wife. Catherine sneaks into the late Mrs. Tilney's chambers when she believes everyone is away, but to her dismay Henry catches her and becomes angry when he realizes what conclusion Catherine has drawn about his mother's passing. Catherine tries to apologize to Henry, but he just states that perhaps it is possible to read too many novels. When General Tilney returns to Northanger Abbey from his trip he sends Catherine home immediately. Catherine doesn't know why she has been sent away, but assumes that Henry has told his father of her assumption that he had murdered his wife. A few days pass, and Henry shows up at Catherine's home and explains to her that he didn't tell his father anything about her assumptions, but that his father banished her because of her lack of fortune. Henry apologizes for his father and tells Catherine that he loves her and proposes to her.
Themes
[
]
Parody of the Gothic Novel
The film plays up this theme even more so than Jane Austen's novel did. Most people refer to Northanger Abbey as Jane Austen's gothic novel because of her use of the same form as that of a gothic novel and because of the popularity of gothic novels and the influence they had on writers during the time in which she wrote the novel. For example, it is shown in both the novel and film that Jane Austen was influenced or at least was somewhat familiar with the author Anne Radcliffe and her gothic novel The Mysteries of Udolpho, written in 1794. When the main character and protagonist, Catherine Morland, goes to Bath for the season, she reads Radcliffe's novel during her stay there. It is also implied that she has read other novels of the gothic genre before. Unlike the novel, there are many dark dream sequences that occur that add to the gothic parody theme. Catherine dreams of men fighting, kidnapping, robbing, and even observing her while she is naked. The first thirty seconds or so of the film has one of these sequences occurring. The next most notable dream sequence occurs on Catherine's ride from her home to Bath with the Allen's. During this sequence she dreams that the carriage has been overtaken. Mr. Allen even fights off the ruffians with his crutches, whereas Mrs. Allen and Catherine just faint. But, true to gothic fiction there is also a mystery that unfolds in the film. Well, at least in the overactive imagination of our heroine. Catherine's imagination leads her to question the nature of General Tilney the patriarch of the Tilney family while she is staying at their family home Northanger Abbey. She wonders if it could be possible that General Tilney could have murdered his late wife. His character seems to be capable of such a horrendous act. However, when she is confronted by Henry as she snoops through the late Mrs. Tilney's chambers, she is informed that the crime and conclusion she has drawn from it are both nonexistent.
Foolishness and Deceit
Every character in this film is subject to foolishness and deceit mostly deriving from assumptions. In this novel foolishness also arises from believing in rumors and assumptions and from taking fiction too seriously. Most every character in this film lies or is being lied to. Working through this deceit is a crucial motif in both the novel and the films plot line. During her time in Bath, Catherine has to deal with rumors, lies and gossip. John Thorpe plays a very important role when it comes to deceit in this film. He expresses to General Tilney that Catherine is the heiress to the Allen's fortune and then he is also the one that causes General Tilney to immediately send Catherine away from Northanger Abbey. He tells General Tilney that she will not inherit any large sum or fortune. Catherine's trust in others makes her foolish and leads her towards several problems. In one instance she allows Isabella and John Thorpe to influence her that Eleanor and Henry Tilney have decided against their already laid plans for a walk and have gone somewhere else without her. Therefore, she ends up agreeing to go on a ride and to spend the day with John Thorpe. However, once on their carriage ride she sees the Tilney's walking down the street and realizes that she has been fooled and taken advantage of. Catherine is a very foolish young lady who lets the words that she reads in her novels control her view of what is really real. We see this when she contrives the idea that Generally Tilney has murdered his late wife. Isabella Thorpe is a character that is both deceitful and foolish. One of Isabella's main tricks in deceiving others seems to be transforming herself into whatever others expect her to be. She is never truly being real, but always putting on a show. She seems to agree with whatever Catherine says, as it is her wish at that time to marry Catherine's brother James. She even doubles back in one scene and contradicts herself to make her opinion the same as Catherine's. She has told Catherine that she and James are engaged, but after James leaves Bath she finds out of his lack of income and inheritance and whines to Catherine about it, but when Catherine remarks saying that their father probably gave James all he had to give, Isabella quickly recants her statement saying that it isn't really about the money, but rather the time they will have to wait to marry before his income comes. However, Isabella is easily fooled, as well. We see this side of her when Captain Frederick Tilney arrives in Bath. Frederick Tilney seduces Isabella into having sex with him at the dance, but leaves her with no hope for an engagement and after being fooled James will no longer have her as a bride, either. Faulty assumptions and deceiving voices are very crucial to both the film and novels plot.
Reception
[
]
This film made Jane Austen's, Northanger Abbey more relatable as a gothic novel by adding the gothic dream sequences that you don't get when you read the novel. The film is also wildly popular because of the parody it plays on the gothic novels of the time period in which Austen first wrote the novel. When it was first broadcasted in the United Kingdom this film had over 5.6 million viewers. This made this Northanger Abbey adaptation the second most popular adaptation following closely behind Mansfield Park. Critics have raved about the casting of this film and the actors performances. The cinematographer of this film, Tanham ,was nominated for Best Director of Photography at the 5th Irish Film and Television Awards for his work on this film adaptation of Northanger Abbey.