Jurassic World: Dominion Dominates Fandom Wikis - The Loop
Play Sound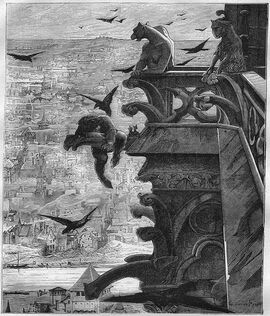 Victor Hugo's 1831 The Hunchback of Notre Dame is a largely descriptive attempt to raise the awareness of his peers regarding the importance of Gothic architecture, which faced neglect and destruction for the sake of modern buildings. Hugo also introduces with this novel the concept of epic theater within literature. The cathedral stands as silent witness and protagonist to the historical epic of an entire body of people. The use of a large number of beggars as the spoken protagonist is first introduced in Hugo's work. The value of Gothic architecture combined with the intricate plot of Quasimodo and Esmeralda and societal metaphor produces one of the most well-known stories in 19th century literature and creates numerous avenues for adaptation.
Synopsis
[
]
The novel opens on Epiphany of 1482 on a crowd of Parisians celebrating the Festival of Fools by seeing a play. The play has been written by the untalented Pierre Gringoire. Attentions turn to a series of distractions that ensue, and instead of watching the play, the crowd holds a contest to crown the ugliest Pope of Fools. Quasimodo, the bell-ringer of Notre-Dame, wins the title.
Gringoire grows tired of the festivities and finds himself in the heart of it at the Place de Grève, where a beautiful gypsy named Esmeralda is dancing and performing tricks with Djali, her pet goat. Esmeralda captures the attention of Gringoire, Captain Phoebus, Quasimodo, and his master, the Archdeacon, Claude Frollo. Frollo immediately falls into obsessive lust for Esmeralda, but is torn between his passions and his commitments to the church.
As Esmeralda dances, the procession of the Pope of Fools enters with Quasimodo as its centerpiece, and a bald priest, whom Gringoire recognizes as the Archdeacon, puts a stop to it all by scolding Quasimodo.
Gringoire decides to follow Esmeralda and witnesses her attempted kidnapping by Quasimodo and another man as ordered by Frollo. He tries to intervene but is struck and loses consciousness. Captain Phœbus comes to Esmeralda's rescue and captures Quasimodo.
When Gringoire regains is bearings, he wanders the streets and accidentally finds himself in the Cour des Miracles, a notorious hangout for the criminals of Paris. Their king, Clopin Trouillefou, plans on hanging Gringoire unless one of the gypsy women is willing to marry him. Esmeralda pities Gringoire and steps up.
Hugo provides insight by returning to sixteen years prior when a severely deformed baby is left at Notre-Dame. He was adopted by a young Claude Frollo, who has already adopted a child: his infant brother Jehan. Sixteen years later, Quasimodo is extremely devoted to Frollo. Frollo has gotten meaner and darker with age, is obsessed with alchemy, and he hates women, especially gypsies.
Quasimodo is brought to trial and is sentenced to a flogging and two hours in the pillory by a judge that is also deaf.Quasimodo is brought to the Place de Grève and flogged. While the crowd harasses him, he asks for some water. Esmeralda sees Quasimodo's thirst and gives him some water. Quasimodo's heart is captured by her act of kindness.
A few weeks later, Captain Phœbus is sitting with his fiancé and her embroidery. He hears the sound of a tambourine in the square below and recognizes Esmeralda. The girls get Esmeralda to come up and dance for them, but exhibit jealousy of her beauty upon her arrival.One of the girls lures Djali, Esmeralda's goat, into a corner, and the goat performs one of her tricks by spelling out the word "Phœbus" with lettered tiles. The girls suspect the worst and throw Esmeralda out. Phœbus follows.
While Esmeralda dances in the square, Frollo watches from his room in Notre-Dame. He sees that she is with a strangely dressed man and hurries down to investigate. On his way down, he notices that Quasimodo is staring down at the square as well. Frollo recognizes the strangely dressed man as Gringoire, who has become one of the Tramps. Upon receiving news that Gringoire is now Esmeralda's husband, Frollo becomes enraged and continuously questions Gringoire regarding his relationship with her.
On his way to his meeting with Esmeralda, Phoebus is accosted by a hooded figure, which questions him and then gives him money to pay for a room—so long as the hooded figure can hide in the closet and watch, to which Phoebus agrees.
Phœbus is in the process of seducing Esmeralda when Frollo stabs him. Esmeralda sees Frollo's face and feels him kiss her as she faints. When she wakes up, she is being accused of stabbing Phœbus.
Esmeralda is brought to trial. It looks like witchcraft to the judges, but Esmeralda refuses to confess to the murder. They torture her until she confesses and sentence her to hanging. She is then taken to an underground prison to await her death.  Frollo comes to see her and he confesses his love for her. He begs her to come away with him, but she is disgusted and refuses. Out of a moment of rage, Frollo tells Esmeralda that Phœbus is dead.
However, Phoebus is not dead and is trying repair his relationship with Fleur-de-Lis, whose house he visits on the day of Esmeralda's hanging. He sees men leading her in front of the cathedral to do penance before her execution. Frollo is present and asks Esmeralda again if she will be his and she again refuses. Esmeralda is about to be led away when she sees Phœbus watching and she faints. Quasimodo emerges from the cathedral, grabs Esmeralda, and carries her inside, claiming sanctuary. Frollo does not see the rescue and upon return to the cathedral, he sees Esmeralda and thinks that he is seeing her ghost. Quasimodo prepares a room for Esmeralda and avoids her during the day to prevent her from having to look at this ugliness. He also tries to convince Phoebus to come to Esmeralda but he refuses. Frollo tries to rape Esmeralda one night. Quasimodo stops him. Because he does not realize that the assailant is Frollo, he acts as if he is going to kill him. He then realizes that the man is his adopted father and lets down his defense.
Frollo asks Gringoire to help him rescue Esmeralda from the cathedral. Gringoire gathers an army of Tramps and they attack the cathedral. Quasimodo mistakes their intent and, thinking that they mean the gypsy harm, releases an arsenal of beams and stones and molten lead down upon them.
Just when it looks like Quasimodo's about to lose the cathedral, it is Phœbus to the rescue. Quasimodo rushes to Esmeralda's room only to find it empty.During the attack, Gringoire and Frollo sneak in to get Esmeralda and Djali. They get in a boat and row away from the cathedral. Once they reach land, Gringoire leaves with Djali. Frollo drags Esmeralda to the Place de Grève and demands that she choose between him and the gallows. She opts for the gallows. Frollo gives Esmeralda to the Sack Woman to hold on to while he gets the sergeants. The Sack Woman is delighted that the gypsy she hates so much is going to die. When she shows Esmeralda the little shoe of her lost child, Esmeralda produces its mate from the necklace she always wears. The Sack Woman, finally reunited with her long-lost child, tries desperately to hide Esmeralda when the soldiers come. Unfortunately, she's not a very good liar, and they drag her and Esmeralda out of the cell. The Sack Woman dies as Esmeralda is carried to the gallows.Quasimodo is upset that Esmeralda is missing. He sees Frollo watching the Place de Grève from one of the towers, laughing as Esmeralda is hanged. Quasimodo grabs Frollo and throws him from the tower. Frollo is able to hang on to a gutter long enough to see Quasimodo weeping before he falls to his death. Quasimodo disappears. Gringoire continues to write plays, and Phœbus gets married.
Two years later, at Montfaucon, two skeletons are found that have dragged away from the rest. One belongs to someone with a deformed spine, and it is clutching the body of a woman. When they attempt to drag the man's skeleton from the woman's, it falls to dust.
Themes
[
]
Write the second section of your page here.
Adaptations 
[
]
Film
[
]
Esmeralda (1905, France- Société des Etablissements L. Gaumont) Director: Alice Guy-Blaché, Victorin-Hippolyte Jasset
The Hunchback of Notre Dame (1911, France- Pathé Frères (France) and General Film Company (USA)) Director: Albert Capellani; Producer: Pathé Frères
The Darling of Paris (1917, USA- Fox Film Corporation) Director: J. Gordon Edwards; Screenplay adaptation: Adrian Johnson; Producer: William Fox
Esmeralda (1922, United Kingdom- Master Films) Director: Edwin J. Collins; Screenplay adaptation: Frank Miller
The Hunchback of Notre Dame (1923, Universal Pictures) Director: Wallace Worsley; Screenplay adaptation: Perley Poore Sheehan, Edward T. Lowe Jr.
The Hunchback of Notre Dame (1939, RKO Radio Pictures) Director: William Dieterle; Screenplay adaptation: Sonya Levien, Bruno Frank; Producer: Pandro S. Berman
The Hunchback of Notre Dame (1956, Italy/France- Allied Artists Pictures Corporation) Director: Jean Delannoy; Screenplay adaptation: Jean Aurenche, Jacques Prévert, Ben Hecht; Producer: Raymond Hakim, Robert Hakim
The Hunchback of Notre Dame (1996, USA- Walt Disney Pictures) Director: Gary Trousdale, Kirk Wise; Screenplay adaptation: Tab Murphy, Irene Mecchi, Bob Tzudiker, Noni White, Jonathan Roberts; Producer: Don Hahn
Quasimodo d'El Paris (1999, France- BAC Films) Director: Patrick Timsit; Screenplay adaptation: Jean-François Halin, Raffy Shart, Patrick Timsit; Producer: Bernard Bouix, René Cleitman, António da Cunha Telles
Television
[
]
The Hunchback of Notre Dame (1966 miniseries, United Kingdom- British Broadcasting Corporation)
The Hunchback of Notre Dame (1977 miniseries, United Kingdom- British Broadcasting Corporation) Director: Alan Cooke; Writer: Robert Muller
The Hunchback of Notre Dame (1982 film, United Kingdom- Rosemont Productions and Columbia Pictures Television) Director: Michael Tuchner and Alan Hume; Writer: John Gay; Producer: Norman Rosemont and Malcolm J. Christopher
The Hunchback of Notre Dame (1986 film, Australia- Burbank Films Australia) Writer: Eddy Graham
The Magical Adventures of Quasimodo (1996, Canada- Astral Programming Enterprises, CinéGroupe, Hearst Entertainment Productions)
Esmeralda (2015 (expected), United States- American Broadcasting Company) Writer: Evan Daugherty
Theater
[
]
Esmeralda; or, The Deformed of Notre Dame (1834, drama, London) Dramatist: Edward Fitzball
Quasimodo; or, The Gipsey Girl of Notre Dame (1836, drama, London) Dramatist: Edward Fitzball
La Esmeralda (1836, opera, Théâtre de l'Académie Royale de Musique) Composer: Louise Bertin
Esmeralda (1847, opera) Composer: Alexander Dargomyzhsky 
Notre Dame; or, The Gypsey Girl of Paris (1871, drama, London) Dramatist: Andrew Halliday 
Esmeralda (1883, opera, Theater Royale, Drury Lane) Composer: Arthur Goring Thomas
Notre Dame (1914, opera) Composer: Franz Schmidt
The Hunchback of Notre Dame (1977, National Theater, London) Dramatist: Ken Hill
The Hunchback of Notre Dame (1993, musical) Composer: Byron Janis
The Hunchback of Notre Dame (1993, musical, Mermaid Theater, London) Composer: Gary Sullivan
El Jorobado de París (1993, musical, Argentina) Composer: Pepe Cibrián Campoy
Notre-Dame de Paris (1996, opera, Latvia) Composer: Zigmars Liepiņš
Notre-Dame de Paris (1998, musical, France) Stage adaptation by Nicholas DeBaubien
Hunchback (1998, rock musical, United States) Dramatist: C. Rainey Lewis
Der Glöckner von Notre Dame (1999-2002, musical, Germany) Dramatist: James Lapine
The Hunchback of Notre Dame (2008, musical, Bailiwick Repertory) Scorer: Dennis DeYoung
The Hunchback of Notre Dame (2010, drama, The Pleasance) Dramatist: Pip Utton
Les Enfants de Paris (2011, musical, United States) Director: Donna Drake
The Hunchback of Notre Dame (2012, drama, Selby Abbey) Production of Belt Up Theater
The Hunchback of Notre Dame (2013, drama,  Tanghalang Pasigueño Villa Teatro) Dramatist: James Villafuerte
Der Glöckner von Notre Dame-English adaptation (2013, drama, The King's Academy Sports & Fine Arts Center) Production of  The King's Academy Fine Arts Department
The Hunchback of Notre Dame (2014, musical, La Jolla Playhouse) Production of La Jolla Playhouse, Paper Mill Playhouse, Disney Theatrical Group
Ballet
[
]
La Esmeralda (1844, Her Majesty's Theater, London) Choreographer: Jules Perrot
Gudule's Daughter, or Esmiralda (1902) Choreographer: Alexander Alexeyevich Gorsky
Notre-Dame de Paris (1965, Paris Opera Ballet) Choreographer: Roland Petit
The Hunchback of Notre Dame (1998, Milwaukee Ballet, Boston Ballet, Royal New Zealand Ballet, Atlanta Ballet and Colorado Ballet) Choreographer: Michael Pink
Ringaren i Notre Dame (2009, Royal Swedish Ballet) Choreographer: Pär Isberg
Literature/Graphic Novels
[
]
Disney's The Hunchback of Notre Dame #1-Marvel Comics (1996, T. Jeanette Steiner)
The Hunchback of Notre Dame: Barron's Graphic Classics (2007, Michael Ford)
The Hunchback of Notre Dame (2012, TIm Conrad)
The Hunchback of Notre Dame (2014, L.L. Owens)
Sequels and Parodies
[
]
The Hunchback of Notre Dame II (2002, film, Walt Disney Animation Japan) Director: Bradley Raymond; Producer: Chris Henderson, Hiroshi Saotome, Stephen Swofford; Writer: Flip Kobler, Cindy Marcus, Jule Selbo
Cameos and Other Appearances in Popular Culture
[
]
Television
Burger King Commercial (1996)
McDonald's Commercial (1996)
Axe Commercial (2008)
Radio
[
]
BBC radio series (1989)
BBC radio series (2008)
Video Games
[
]
Hunchback (1983, Century Electronics)
Music
[
]
Quasimodo's Dream (1983, The Reels)--remade by Gotye and Perfect Tripod (2013)
Quasimodo (2000, Lifehouse)
Quasimodo (2014, Eiko & Ave Altmäe)
Resources
[
]
Amazon.com
Youtube.com
Wikipedia
IMDb