Jurassic World: Dominion Dominates Fandom Wikis - The Loop
Play Sound
Bronte, Emily and I.J. Miller. Wuthering Nights: An Erotic Retelling of Wuthering Heights. Grand Central Publishing. New York, 2013.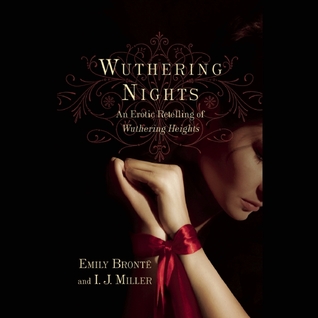 Wuthering Nights is an erotic rendition of Emily Bronte's 1837 Gothic Romance Wuthering Heights, published in 2013 by Grand Central Publishing . This erotic retelling of Bronte's story is one of many such rewrites of 19th Century classic texts in recent years. The majority of these texts seem to focus on adapting or appropriating all or parts of the romances of Jane Austen and the Bronte sisters, but notable exceptions include Dorian Gray , The Count of Monte Cristo, the Tales of Sherlock Holmes, and Tarzan . 
Synopsis 
[
]
Writer I.J. Miller retains the core narrative of Bronte's text, including the frame tale of the stranger coming to the moors, but creates two volumes to emphasize psychological changes in Heathcliff. Volume One is everything prior to Cathy's engagement, Volume Two contains everything that happens after. The plot remains unchanged in fundamentals such as the childhood of Heathcliff and Cathy, the meeting of the Lintons, Heathcliff's long revenge on the Earnshaw and Linton families, and the second generation relationships between Catherine Earnshaw (Jr.) and Linton, and she and Hareton Earnshaw. Though the main elements are basically present, Miller has made some major changes in order to create an erotic novel for a contemporary audience that meets their expectations. 
Frame
[
]
The frame narrative has been switched to a modern setting, and is written using a second-person point of view. Mr. Lockwood has been removed, and the reader him/herself takes on the role of guest that, in this case, psychically experiences the story of the two houses. In this frame the reader is a guest at Wuthering Heights, an old house converted into a bed and breakfast. While lying in bed, engaging in autoerotic acts , the guest/reader sees two naked ghosts who join him/her in bed, and transmit the story as a vision. 
Volume One
[
]
The young adulthood of Heathcliff and Cathy is embellished with make-out sessions, heavy petting, and a dramatic vow of faithfulness to one another that involves an apparently death-defying leap off a cliff into a small pond. In this version, Heathcliff is depicted as kind-hearted and notably obsessed with, and subservient to Cathy. Large portions of Bronte's text have been cut to make room for descriptions of Heathcliff fantasizing about Cathy's body, their love for one another, and their future as a married couple. When Edgar Linton is introduced as a love interest for Cathy, Heathcliff and Nelly Dean begin a sexual relationship. Once Cathy accepts Edgar's marriage proposal, Heathcliff's character alters and he vows revenge, beginning his quest for domination by making Nelly his first sexual submissive. 
Volume Two
[
]
Heathcliff's plan for revenge follows Bronte's text, but includes entering into BDSM sexual relationships with Isabella Linton, Nelly, and Cathy. Miller's retelling includes several notable changes in this volume, mostly concerning the second generation and the death of Heathcliff. Catherine Linton never marries Linton Heathcliff; instead, she and Hareton Earnshaw discover their love for one another early, and manage to obtain Edgar Linton and Linton Heathcliff's blessings on their love before the death of either. Heathcliff also gives the couple his blessing, saying "Peace cannot exist with hate, only love…This you have shown me" (345). Immediately following this moment of redemption, Heathcliff jumps off a cliff to his death, and the souls of he and Cathy are united for what readers are led to believe will be an eternity of ghost-sex. 
Key Traits 
[
]
Modern Romance
[
]
Many of the changes made by Miller to the plot can be viewed as adaptations of the romance genre—the consumer of modern romances expects "the story of a man and a woman who, while they're solving a problem that threatens to keep them apart, discover that the love they feel for each other is the sort that comes along only once in a lifetime; this discovery leads to a permanent commitment and a happy ending" [2]. Miller's addition of Heathcliff's redemption, the focus on Heathcliff's inner thoughts and feelings for Cathy, and the postmortem reunion of the lovers, all help the story meet current audience expectations. 
Writing Style
[
]
Some of Bronte's own prose has been preserved in Miller's retelling, but most of the source text has been paraphrased or cut. Readers get the major points of the story, but the language has been simplified for a modern audience who may also be primarily interested in the added sex scenes, and less patient with extensive story details. Because of the cut details, Miller interprets the emotional responses of the characters explicitly for readers. Bronte's text relies on a slow accumulation of dialogue clues to indicate her characters' inner feelings. For instance, she alludes to the possibility that Heathcliff loves Hareton although he is Hindley's son by showing Heathcliff praise Hareton's qualities on multiple occasions. Miller cuts out the extended dialogue, and instead tells readers that "although Hareton was unquestionably another man's son, Heathcliff couldn't help but be reminded of his own relationship with Mr. Earnshaw. There was no doubt that the old master had loved him, and he harbored a similar love for Hareton, seeing so much of himself in this young man" (317).  Telling rather than showing allows Miller to retain the story of Wuthering Heights and add the sex scenes without lengthening the text beyond what audiences may be willing to read. 
BDSM              
[
]
As in many eroticized classic novels, the majority of the sex acts depicted could be categorized as BDSM . The power dynamics between the protagonists and their love interests, and the restrained yet intense sexual subtext of the source texts lend themselves to BDSM interpretation when made explicitly sexual for readers. Miller's interpretation of Heathcliff's domination over others, and particularly his relationship with Isabella, translate into depictions of potentially humiliating or painful sex acts intended as demonstrations of power.  
Journalists have also alluded to the connection between these erotic retellings and 50 Shades of Grey [3] [4]. The amount of published erotic retellings increased after that novel's success, proving that there was a market for A) BDSM or lightly BDSM romances, and B) erotic adaptations or appropriations of favorite stories. The additional attention paid to fanfiction, and the recognition that erotic retellings have existed for a long time in this form may have also influenced the production of novels such as Wuthering Nights. 
Sources
[
]
1. Bronte, Emily and I.J. Miller. Wuthering Nights: An Erotic Retelling of Wuthering Heights. Grand Central Publishing. New York, 2013. Print. 
2.Michaels, Lee. "Studying the Romance Novel." Writer's Digest. Web
3. Andrews, Emily. "Reader, I Ravished Him: Classics Given a Steamy 50 Shades of Grey Makeover that would make Jane Austen and the Brontes Blush." Daily Mail Online. Web. 
4.Sherna, Noah. "Oh Mr. Darcy! Pride and Prejudice Among Classic Novels to Receive Erotic Makeover." The Independent Online. Web.